South Korea to halt Iran oil imports amid sanctions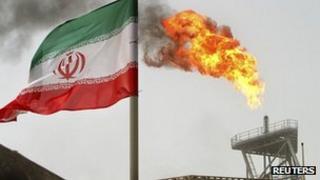 South Korea has said imports of Iranian oil will be suspended from 1 July amid a European Union (EU) insurance ban on vessels carrying the product.
The insurance ban is part of a series of measures taken by the EU and the US to hurt Iran's oil exports.
Oil is a major source of revenue for Tehran and the EU and US have been trying to use it as a tool to persuade Iran to give up its nuclear programme.
South Korea is the first major Asian economy to halt oil imports from Iran.
"The EU will ban providing insurance related to Iranian oil imports, because of which we cannot get the insurance provided by the European insurance companies," a spokesperson for South Korea's Ministry of Knowledge Economy confirmed to the BBC.
He added that as a result South Korea was not in a position to continue importing oil from Tehran.
Insurance issues
Shipping vessels buy insurance covers to safeguard against accidents and various issues ranging from personal injury to environmental claims.
However, the bulk of companies that sell insurance on shipping vessels are based in the EU.
That means that once the insurance embargo comes into place on 1 July, it will make it difficult for shipping companies to insure vessels carrying Iranian crude.
That has led to various countries in Asia, which rely heavily on Iranian oil imports to meet their fuel needs, to take measures to ensure that they continue to get oil supplies from Tehran.
According to a report by the Reuters News agency, India has asked Tehran to arrange shipping and insurance for its exports to India.
The agency said that China, the biggest importer of Iranian oil, has also asked Iran to arrange for shipments to the mainland.
Meanwhile, Japan will provide "sovereign guarantees" for Iranian shipments, Reuters said in its report.
Alternative sources
South Korea is Asia's fourth-largest economy and one of the biggest buyers of Iranian oil in the region.
While the insurance ban would make it almost impossible to receive Iranian oil imports, South Korea said it had already replaced most of its oil supply from other producers.
"The government has been in active and continuous dialogue with other oil exporting nations to secure alternative sources of oil," the Ministry of Knowledge Economy said in a statement.
"It will continue its efforts to help minimize the impact on the country's economy and businesses."
A spokesperson from the Ministry of Knowledge Economy confirmed to the BBC that it had started to replace the shortfall with imports from other oil producers, including Kuwait, Iraq and Qatar.