Coca-Cola plans $5bn India investment to boost growth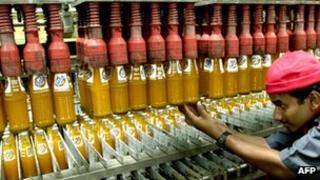 Coca-Cola has said that, together with its bottling partners, it will invest $5bn (£3.2bn) in India in a bid to increase its market share.
The investment, which will be spread over eight years, is $3bn more than it had previously announced.
India is one of the fastest growing consumer markets and the firm's sales there have been rising steadily.
However, its flagship drink, Coke, still lags behind rival Pepsico's Pepsi in the country.
According to various estimates, Coke has a market share of close to 9% in India, while Pepsi's share is nearly 15%.
'Ahead of the curve'
However, Coca-Cola enjoys a slight edge over its rival Pepsico when it comes to the overall share of the Indian market.
According to industry estimates, Coca-Cola has close to a 58% share of the market, compared with Pepsico's 38%.
A key reason for that is the success of some of Coca-Cola's other drinks, especially Thums Up and Sprite, which are two of the most popular carbonated drinks in India.
Earlier this year, Coca-Cola reported that its sales in India jumped 20% during the first quarter compared with a year earlier.
Muhtar Kent, chairman and chief executive of Coca-Cola, said that the firm was keen to build on its growth and stay ahead of its rivals.
"We have increased the investment here because we think there's potential here to stay ahead of the curve."