Felda shares up 19% as investors bet on palm oil demand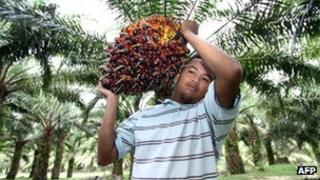 Shares in Malaysian palm oil firm Felda have surged on their debut as investors bet on growing demand for its product from the region.
The firm's shares jumped as much as 20% to 5.46 ringgit on the Malaysian stock exchange, Bursa Malaysia.
The company had raised 10.4bn ringgit ($3.2bn; £2bn) via its share sale, which was the world's second biggest this year after Facebook.
Malaysia is the world's second largest producer of palm oil.
According to government statistics, the palm oil industry currently generates an annual turnover of $16.6bn (£10.6bn).
'Very important company'
Demand for palm oil has been rising steadily in recent years, especially from emerging economies such as India and China.
The commodity is used in a variety of products such as biscuits, soap and biofuel.
Felda is among the world's leading producers of palm oil and analysts said that investors were hopeful that it would benefit from the rising demand.
They said the firm had also got the backing of domestic institutional investors, which had made smaller retail investors more confident about its prospects, despite a recent drop in its profits.
"A lot of people were waiting for [the IPO] for a long, long time," said Linda Koh, an analyst with research house InsiderAsia.
"More importantly, it will get a lot of support from the local institutions. It's a very important company for the government."