Veolia sells UK water business for £1.2bn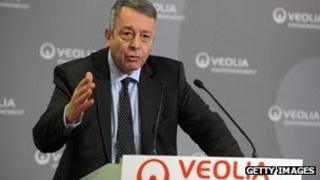 French water and waste group Veolia Environnement has sold three UK water businesses for £1.24bn ($1.92bn; 1.5bn euros) in a bid to cut its debts.
Rift Acquisitions, a fund managed by Morgan Stanley and Prudential's M&G, will buy Veolia Water's central, southeast and east businesses.
Veolia shares opened up 2.4% in Paris on news of the sale.
Veolia Water serves more than 3.5 million people in the south of the UK, and employs about 1,250 people.
The group will retain a 10% stake in Veolia Water as well its Veolia Water Outsourcing business which provides services to other UK water providers.
Fraud scandal
The company is committed to selling 5bn euros of assets by 2013 as part of a programme to restore profits.
Last year the group unearthed a 90m-euro ($111.7m) accounting fraud at a subsidiary in the US which plunged the group into loss.
As a result, chief executive Antoine Frerot unveiled plans to reduce the company's debt from 15bn euros to 12bn euros by 2013.
Veolia Water is the first major sale in this restructuring programme. In total, Veolia aims to exit half of the 77 countries in which it operates.