Nationwide says UK house prices fell 0.6% in June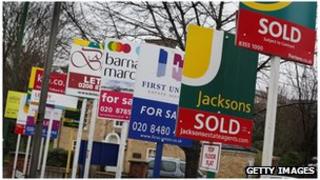 The price of a typical house fell 0.6% in June, the Nationwide has said.
It blamed the weakness of the UK economy and the end of the stamp duty holiday in March, which provided a boost for the market early in the year.
The annual decline in prices now stands at 1.5%, the sharpest decline in almost three years, the building society said.
It says that there are few signs of a near-term economic rebound and the outlook for house prices remains "highly uncertain".
Robert Gardner, the Nationwide's chief economist, said: "Economic conditions are expected to remain challenging over the next twelve months."
"However, policymakers' efforts to bolster the supply of credit to the economy and to help lower the cost should provide support to demand."
Mark Harris, chief executive of mortgage broker SPF Private Clients, said the market was "back down to earth with a bump".
"The Olympics and traditional summer lull mean the next few months look set to be even more challenging," he said.
"It is still too early to see what effect the emergency funding from the Bank of England will have, and whether it will mean cheaper mortgages for those with small deposits, as well as those with sizeable down payments."
The Nationwide said that the three-month on three-month measure of prices had seen a fall of 0.9% in June.
This left the value of the average home at £165,738 in June, the building society said.
The interactive content on this page requires JavaScript