Concern over future of consumer safety spotchecks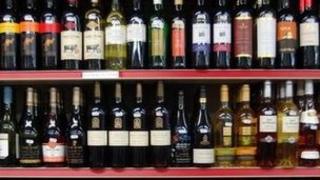 Spotchecks to ensure businesses are following consumer safety rules could be curtailed under government plans, it has been warned.
Inspections by trading standards officers include unannounced visits to premises such as off-licences to check that fake alcohol is not being sold.
The Trading Standards Institute (TSI) has called on the government to end any uncertainty over the future of checks.
The government said it was mindful of the "burden on business".
Plans to alter the regulations on visits - suggesting that officers give notice of visits more often - were included in proposals to change consumer law. A consultation on the plans has just closed.
'Make it clear'
The TSI's response to the consultation raised concerns that rogue traders could simply hide any products that did not meet the current rules if they knew the inspectors were coming.
It pointed to the experience in France, where non-compliant silicone used in breast implants was concealed when safety inspectors gave advance notice of visits.
In another case, a random unannounced inspection of gold-buying premises in London uncovered the use of scales which underweighed the amount of "scrap" gold sold to the business by consumers.
Andy Foster, policy director for the TSI, said that many inspections, such as at manufacturing sites, took place after an appointment was made.
However, in other cases, advanced notice would give a "false impression" of a business. He called on the government to make inspectors' rights clear, so there were no legal challenges to an unannounced visit.
But Consumer Minister Norman Lamb sought to reassure officers that the use of spot checks would still be a key tool for inspectors.
"We do not want to stop officers entering premises to carry out spotchecks and we want officers to be able to tackle rogue traders," he said in a speech to the TSI conference.
"We will be working with the Home Office to ensure we meet both the enforcement and civil liberties principles, but we will be mindful of our responsibility to reduce the burden on business."