Petronas acquires Progress Energy Resources in $5.3bn deal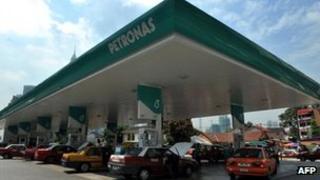 Malaysia's Petronas has agreed to buy Canada's Progress Energy Resources in a deal worth 5.5bn Canadian dollars ($5.3bn; £3.4bn).
Petronas has offered C$20.45 per Progress share, a 77% premium on their closing price on Wednesday.
The deal will give Petronas control of vast shale gas reserves in Canada.
Shale gas prices are significantly lower in North America than in Asia and many firms have been keen to tap into the North American reserves.
"Our asset base requires extensive capital to develop its large potential," said Michael Culbert, president and chief executive of Progress Energy.
"Petronas offers the size and scale that will enable our company to continue to grow and not be limited by the same cashflow challenges faced by many producers in the North American natural gas market today."
Export terminal
The two firms said that they had also selected a site in Canada for a potential export terminal for liquefied natural gas (LNG).
They said they would study the plan and take a final decision on the terminal after considering "the environmental and social impacts as well as ascertaining technical feasibility".
The deal would help "bring Canada's abundant and clean-burning natural gas resources to global markets, leveraging our well-established and extensive network of customers worldwide," said Anuar Ahmad, executive vice president of the gas and power business for Petronas.
The proposal to build the terminal by Petronas and Progress comes amid similar interest by three other firms including Royal Dutch Shell.
Petronas also assured shareholders that it does not plan to cut any jobs at Progress.
The deal still needs to be approved by Canadian government authorities and Progress shareholders.