Royal Mail postal business back in profit after four years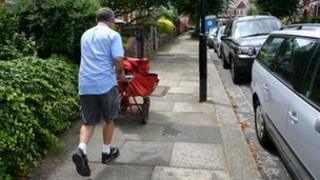 Royal Mail has increased annual profits and said that its core postal business is also back in the black for the first time in four years.
The delivery service made a profit of £23m on revenues of £7.2bn , up from a loss of £120m last year.
The business, which delivers to 29 million UK addresses, says it is on the way back to financial health.
Royal Mail makes 90% of profits from the Post Office network and its international parcels business.
Overall revenues were up by 4% to £9.5bn.
The government recently took over Royal Mail's pension liabilities as a step towards selling some of the business to private investors.
The Royal Mail's chief executive, Moya Greene, said: "Royal Mail group has made significant progress over the last year, successfully addressing cash flow, profitability and balance sheet issues.
"We are cash-positive for the first time in four years, our profitability is improving and we no longer have going concern issues," she said.
She said, however, that there was much more to be done.
Parts of the UK postal service have been opened up to competitors which are allowed to operate bulk services for businesses.
This has left the Royal Mail with the responsibility of delivering letters at a single price to all UK addresses, something which it had been losing money on as people shift to electronic communication.
Royal Mail was allowed recently to increase the cost of stamps in a bid to stem losses.
The price of a first-class stamp went up from 46p to 60p - a 30% increase - and second-class stamps rose from 36p to 50p.