IT failure affected thousands, says RBS boss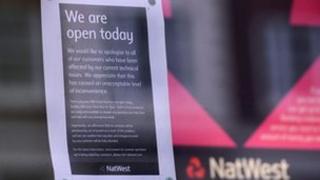 Some 15,000 customer problems caused by the IT failure at RBS could not be resolved immediately, the bank's chief executive has revealed.
In a letter to the Treasury Committee, Stephen Hester said that a "very large number" of other inquiries were dealt with by branch or call centre staff.
He revealed more details of a meltdown 10 days ago that led to a huge backlog in updating customers' balances.
He said the bank's "systems resilience" was not up to scratch.
Earlier, Mr Hester, who said he would not be taking a bonus this year , told the BBC that the time taken to clear the mess caused by the computer failure at RBS, NatWest and Ulster Bank had been "unacceptable".
He said some customers, mainly those with Ulster Bank, were still hit by the backlog in updating balances caused by the computer failure.
'Customers expect more'
The initial problem occurred 10 days ago when a software change led to difficulties for the banking group. Most NatWest and RBS accounts should now be working as normal.
He said that those Ulster Bank customers still affected should see their accounts return to normal next week.
Thousands of people were affected when an automated system failed. As a result many people were unable to access their wages or pay vital bills such as their rent.
In a letter to Andrew Tyrie , the chairman of the Commons Treasury Committee, Mr Hester explained that every night the bank was processing about 20 million transactions in batches. When an Edinburgh-based team did maintenance work on the system, one of these batch processes failed.
However, the team could not discover at which point during processing the failure occurred. Pin-pointing the exact point of failure led to the huge backlog developing.
"We managed to resolve a very large number of difficulties experienced by customers immediately through our branches and call centres," he said in the letter.
"There were 15,000 others that required a greater degree of attention. We have so far resolved over 90% of them.
"Customers rightly expect more from us than this incident provided."
Bank branches extended their opening hours to deal with questions from affected customers, and call centre staff numbers were doubled.
'Unique incident'
The banking group said it was conducting a detailed investigation, overseen by independent experts, into what went wrong and how it could be prevented from happening again.
Mr Hester said that customers were his main focus when he took on the job three and a half years ago.
"There is much to do on many fronts and we clearly have yet to achieve a satisfactory level of systems resilience as part of that, albeit this was a unique incident," he said in the letter.
"I therefore view this incident with the utmost seriousness, hitting customers as it did."
The banking regulator, the Financial Services Authority, has also asked for details of the failure.