Libor scandal and the law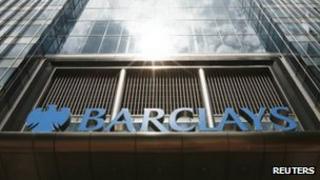 Barclays has been fined £290m ($450m) after trying to manipulate the Libor rate, a key lending rate between banks.
The chairman of the Financial Services Authority (FSA), Lord Turner, told the BBC that the FSA's £59.5m portion of the fine was its strongest available sanction.
The case has led to calls by many for UK criminal prosecutions to be brought against individual bankers.
The FSA, as a regulatory body, has the power to fine individual traders but it is for the Serious Fraud Office (SFO), a government department, to bring criminal prosecutions in England.
The SFO has now said that it is "considering whether it is both appropriate and possible to bring criminal prosecutions".
The SFO will consider the following factors:
Does the value of the alleged fraud exceed £1m?
Is there a significant international dimension?
Is the case likely to be of widespread public concern?
Does the case require highly specialised knowledge, for example, of financial markets?
It will also take into account more detailed factors looking at the seriousness and complexity of a case.
Any prosecution would be brought under the Fraud Act 2006 , under which individuals can be jailed for up to 10 years.
'Costly and lengthy'
But Clive Zietman, head of commercial litigation at Stewarts Law, says that it is difficult even for the SFO to bring a successful prosecution.
"What you have to do in a criminal prosecution is you have to prove particular individuals, wherever they are in the organisation, had actual knowledge in some way that makes them culpable.
"There is the physical side and the mental side - and the mental side involves some kind of knowledge. You've got to prove that beyond all reasonable doubt.
"Charges of this kind would be very novel indeed."
Alexander Fox, partner and head of litigation at the law firm Manches, agrees: "There's a quite constrained public purse in the UK. Jury trials for criminal prosecutions are costly and lengthy. And often jurors are completely lost as to what are the nuances of the crime."
He says it is often easier for a third party, such as a disgruntled shareholder, to bring a civil action against a company or individual in the High Court for a breach of contract and/or breach of duties - claims which have the advantage of being decided on a lower standard of proof than any criminal prosecution.
Possible penalties here include fines and disqualification from acting as a director of a company for up to 15 years.
UK v US
He notes that there is a big difference in how the UK and US approach white-collar crime. The US Department of Justice has already launched a criminal investigation.
Mr Fox adds that a criminal prosecution in the US is more likely to take place, sometimes driven by political expediency.
"In the US, they like very high-profile arrests. Police officers often tip off journalists, there are TV cameras always there. We don't have that so much in the UK. Plus there's a lot more money flying around in the criminal [prosecution] regime in the US."
Clive Zietman also points to the difference in international civil law when it comes to individuals or victims of fraud seeking compensation.
"In the US there is a different system of law in bringing claims. People talk around class action. There is no such thing in England. Individuals have to bring cases individually."
Under review
The government is now ordering an immediate independent review into the future operation of Libor and criminal sanctions, as well as a parliamentary inquiry into the wider banking sector.
The review of Libor will look at the adequacy of criminal and civil sanctioning powers when applied to other price-setting mechanisms in the market.
At the moment it is unclear exactly what will emerge from the inquiries.
"It might be that they are contemplating turning the FSA (or its replacement body) into a criminal prosecutor like the SFO," says Mr Zietman.
"My view is that there is a wealth of regulatory options (under the Financial Services and Markets Act 2000 ) and criminal options (under the Fraud Act 2006) so I am not at all sure what extra law we need."
And although it can be difficult to bring criminal charges against senior staff, it is not unheard of, Mr Fox says.
"There are some areas of law where if a company has made a mistake, then directors can be held responsible, such as corporate manslaughter.
"I think it's a good thing that the government is taking market manipulation seriously. But the law's quite clear - you shouldn't be doing it. I'm not sure a review is necessary."