Barclays reveals Bank of England Libor phone call details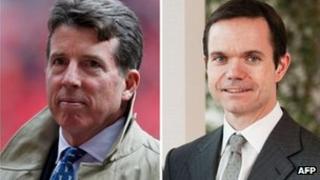 Barclays has revealed how its most senior executives became embroiled in the Libor rate-fixing scandal.
The bank has disclosed details of a phone call between former boss Bob Diamond and the deputy governor of the Bank of England, Paul Tucker, in 2008.
Mr Tucker told Mr Diamond that Barclays' Libor submission did not always need to be as high as it was.
Barclays said Mr Diamond did not view this as an instruction, but another executive, Jerry del Missier, did.
Earlier on Tuesday, the rate-rigging scandal forced the resignations of Mr Diamond and Mr del Missier, the chief operating officer.
Mr Diamond is due to appear before the Treasury Committee on Wednesday, where he is expected to expand on conversations with the Bank of England over the Libor issue.
In fresh evidence posted on Barclays' website , the bank disclosed a conversation between Mr Diamond and Mr Tucker on 29 October 2008.
An internal memo sent by Mr Diamond to other Barclays executives said: "Further to our last call, Mr Tucker reiterated that he had received calls from a number of senior figures within Whitehall to question why Barclays was always toward the top end of the Libor pricing.
"Mr Tucker stated the levels of calls he was receiving from Whitehall were senior and that, while he was certain that we did not need advice, that it did not always need to be the case that we appeared as high as we have recently."
Barclays said that subsequent to the call, Mr Diamond relayed the conversation to Mr del Missier. The two men were at the time senior figures at the firm's investment banking arm Barclays Capital.
Although Mr Diamond did not believe Mr Tucker was instructing Barclays to manipulate its Libor rate, it is possible Mr del Missier concluded it was, the bank said.
Barclays said in its evidence: "Jerry del Missier concluded that an instruction had been passed down from the Bank of England not to keep Libors so high and he therefore passed down a direction to that effect to the [traders]."
It is unclear who the "senior Whitehall" figures mentioned by Mr Diamond were.
Documents seen by the BBC on Monday indicate ministers in the last Labour government held discussions with banks about policies which would allow the Libor rate to fall.
Speculation about how much the government of the day knew prompted a statement on Tuesday evening from former Labour minister Baroness Vadera of Holland Park.
She said she "has no recollection of speaking to Paul Tucker or anyone else at the Bank of England about the price setting of Libor".
'Difficult position'
During a press conference on Tuesday, Mr Agius told reporters Mr del Missier had been "the most senior officer [at Barclays] who gave instructions to lower Libor rates, and that obviously puts him in a very difficult position".
Mr del Missier's role in the affair has been investigated by the FSA. Barclays said the FSA "closed the investigation without taking any enforcement action".
Libor is a benchmark interest rate, affecting what banks, businesses and individuals pay to borrow money.
Barclays said in its evidence that it told regulators it was concerned about the Libor rates posted by other banks, "and we were disappointed that no effective action was taken".
Mr Diamond's resignation came less than a week after Barclays was fined £290m for trying to manipulate the inter-bank lending rates.
BBC business editor Robert Peston disclosed on Tuesday Mr Diamond was encouraged to go by the heads of the Bank of England and the FSA.
Mr Diamond said he was stepping down because the external pressure on the bank risked "damaging the franchise".
No details of any severance package have been disclosed, although former City minister Lord Myners told BBC radio's World At One any payoff could be between £20m and £30m.
The resignations of Mr Diamond and Mr del Missier follow an announcement on Monday that Barclays chairman Marcus Agius will stand down.
However, he will now take over the running of Barclays until a new chief executive is appointed.
Earlier, Lord Turner, the chairman of the Financial Services Authority, described the outrage that has built up over the bank's actions.
"The cynical greed of traders asking their colleagues to falsify their Libor submissions so that they could make bigger profits - has justifiably shocked and angered people, in particular when we are facing hard economic times provoked by the financial crisis," he told the Financial Services Authority's annual meeting.
Meanwhile, the a Labour attempt to set up a judge-led inquiry into banking was defeated on Tuesday night in the House of Lords.
Prime Minister David Cameron has announced a parliamentary inquiry into the banking sector, but Labour said it was "not good enough".
MPs will get to vote on the type of inquiry on Thursday.