All Nippon Airways to raise $2.6bn to fund expansion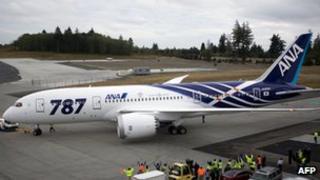 Japan's All Nippon Airways (ANA) has said that it plans to raise as much as $2.6bn (£1.6bn) by selling new shares to fund its expansion plans.
The airline said it will use the money to acquire new planes, including Boeing 787s, and to bolster its finances.
ANA has been facing growing competition from rival Japan Airlines amid a turnaround in the latter's business after its recent bankruptcy.
The share sale will be the largest by a Japanese firm this year.
The airline said in a statement that the sale will help it to establish "a financial base that is able to respond in a timely and flexible manner to future growth opportunities".
Fight for money
ANA and Japan Airlines are competing with each other not only to attract more consumers but also potential investors.
According to ANA, it is planning to start its share sale as early as this month.
Meanwhile, JAL, which had filed for bankruptcy in 2010 and was subsequently delisted from the Tokyo Stock Exchange, is also planning a share sale of its own.
According to reports, it has already applied for permission to relist on the bourse, and is expected to conduct its share sale in September this year to raise as much as $8bn.
Analysts said that JAL's looming share sale may hurt ANA's plans to raise money, not least because of the turnaround in the former's fortunes.
Japan Airlines posted an an annual net profit of 186.6bn yen ($2.3bn; £1.5bn) for the financial year ending 31 March 2012.
On the other hand, ANA said that it made a net profit of 28.1bn yen during the same period.
"Investors will have to be selective on their choices between the two airlines," said Mitsushige Akino of Ichiyoshi Asset Management. "The new JAL is a competitive company."