British Racing and Betfair sign £40m commercial deal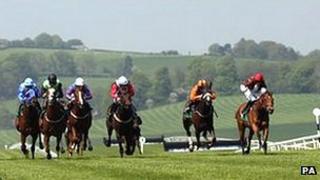 Online betting exchange Betfair has signed a deal with British horse racing organisers, promising a minimum £40m of funding over the next five years.
It will give 10.75% of all revenues on the sport taken from its UK customers.
It comes after meetings with industry bodies the British Horseracing Authority, the Racecourse Association and Horsemen's Group.
In return, the sport has pledged a minimum number of fixtures per year and to maximise betting opportunities.
The agreement will replace Betfair's current annual voluntary Horserace Betting Levy payments.
Most major betting firms, including Betfair, now run their online operations outside the UK and are liable to pay tax and horserace levy only on business done within the country - rather than on their total global operations.
However, until now Betfair has voluntarily paid the UK horse racing levy as though it were still British-based.
The new agreement will replace this previous ad-hoc agreement and will take effect from the 51st Levy Scheme, which covers the 2012-13 racing season.
"We are delighted that we have been able to reach an agreement with Betfair, one which represents a landmark for both the racing and betting industries," said Paul Bittar, chief executive of the BHA.
"It brings many benefits, including substantial and increased guaranteed funding, as well as importantly providing certainty for the sport in relation to Betfair's contribution."
The Horserace Betting Levy, a major source of funding to the sport, has been gradually diminishing over the years with the moves offshore by betting firms.
And Mr Bittar said he hoped similar arrangements to the Betfair one could now be concluded with other betting operators.
Betfair's chief legal and regulatory officer Martin Cruddace dubbed the deal "historic" and also called on other betting firms to "adopt similar agreements to help ensure a strong, healthy and vibrant horseracing industry in this country".