Andy Roddick: Game, set and goodbye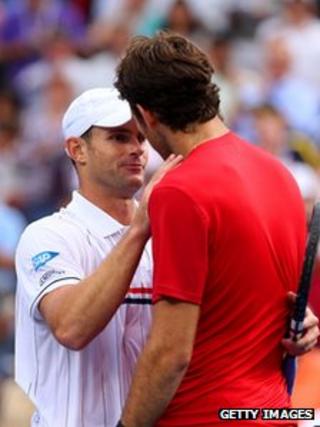 Andy Roddick's fourth-round match at the US Open was the last time he will hit a tennis ball in earnest as a professional player.
His defeat at the hands of Argentina's Juan Martin Del Potro marks the end of an illustrious career that saw him win 32 titles, including the US Open in 2003.
The former world number one had already announced his retirement at a press conference prior to his second-round match against the promising Australian player Bernard Tomic.
His announcement came as no surprise - he had already hinted his appearance at Wimbledon in 2012 would be his last.
At the time he said: "Walking off at Wimbledon, I felt like I knew. Playing here, I don't know what it was, but I couldn't imagine myself being here in another year."
Furthermore, it transpired he had told his compatriot Serena Williams of his decision to retire late last year.
He already has many interests apart from competitive sport - an academy which mentors future stars of American tennis and, since January 2012, a nationally syndicated sports radio show.
The programme is a mix of sports, pop culture and entertainment, which, according to his supermodel wife Brooklyn Decker, her husband plans to turn into a daily event.
Cash in hand
The US Open was also the last tournament for the 29-year-old Belgian player Kim Clijsters.
But what does the future hold when a professional tennis player hangs up their rackets?
We hear about the massive sums that can be won on the circuit.
Whoever lifts the trophy in the singles competition at any of the four grand slams currently receives a cheque in excess of $1.56m (£1.15m).
Roddick has earned more than $20m in prize money, while Clijsters has amassed more than $25m - on top of which, there have also been substantial earnings from endorsements.
However, players outside the top 20 rankings probably will not have much tucked away for a rainy day.
There are exceptions of course, but many of them move into what many people would look upon as "a proper job".
Media savvy
The elite few, who have earned tens of millions in prize money and sponsorship deals, will be faced with many options.
There are some well-trodden choices - starting your own tennis academy, becoming a coach, or having your own clothing franchise or sporting equipment bearing your name.
The most renowned players who chose the latter option are Fred Perry, who won his last Grand Slam in 1936 and Rene Lacoste, who lifted his last major trophy in 1929.
Few people who wear those clothes today are aware of the tennis history associated with the brand.
Meanwhile, one route many ex-players follow is to become a commentator at the major events - the four grand slams and the masters series.
They offer a gravitas to proceedings because, having once been at the peak of the game themselves, they generally know what they are talking about.
Previous grand slam champions who grace their national television screens in this manner include Jimmy Connors, John McEnroe, Lindsay Davenport, Chris Evert and Jim Courier for the US television networks, Cedric Pioline in France, and Virginia Wade and Sue Barker in the UK - along with the German Boris Becker.
Unlike Roddick's syndicated programme, McEnroe's eponymous talk show on CNBC in 2004 was cancelled after six months due to poor viewing figures.
Although mostly remembered for his confrontational on-court behaviour, which frequently landed him in trouble with umpires and tennis authorities, he became a respected figure in the media after he retired from tennis, while his interest in art led him to open a gallery in New York City which features up-and-coming young artists.
Some UK players took the media route a step further.
Andrew Castle was initially a sports commentator, but he then went on to be the presenter of a daily television breakfast show for more than a decade.
His compatriot Sue Barker, the winner of the French Open in 1976, has also enjoyed a successful career in television.
Striking gold
Most of the seriously wealthy tennis players form charitable foundations and, like Andre Agassi and his wife Steffi Graf, they devote much of their time to a hands-on approach now their tennis days are over.
Former champions who have had successful careers away from the courts include Becker, who has a thriving real-estate business, and Bjorn Borg, whose sexy underwear collections have revived his fortunes.
But their accomplishments pale into insignificance compared with what has been achieved by Ion Tiriac - the Romanian player who never won a singles title but who teamed up successfully as a doubles partner with Ilie Nastase.
After his retirement as a professional tennis player, Tiriac served as coach and manager for players such as Becker, Goran Ivanisevic and and Marat Safin.
He also became a businessman in Germany and, following the collapse of communism in Romania, invested in numerous businesses.
In 2012, at the Madrid Open tennis tournament, which he runs, he controversially introduced blue, rather than the traditional red clay.
But just as a tennis ball leaves its mark on the surface of a clay court, so Tiriac has left his mark on Romanian business.
In 1990 he founded Banca Tiriac, the first private bank in post-communist Romania.
Between that and several other enterprises, including retail, insurance, motor vehicle dealerships and an airline, he has amassed a fortune of more than $1bn - making him the richest man in Romania.
Who knows, perhaps Roddick will follow his example and become a billionaire media mogul.