How fan-funding is changing the face of music finance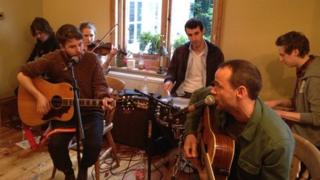 It used to be that a band or musician starting out would gig non-stop.
They would drive the length and breadth of the country in a battered old Transit van, playing in sweaty clubs in the vain hope of being discovered and given that dream deal by one of the major record labels.
All that's changed now. The battered van is still there, as is the need for touring, but the big labels just are not investing in new music.
The majors are happy enough to give musicians a one-album deal off the back of a TV talent show, but what of the smaller bands? How are they supposed to break through?
The rise of fan funding websites, such as Kickstarter and PledgeMusic, are turning out to be a very attractive option for bands.
Since starting in 2009, PledgeMusic has helped well over 1,000 bands and musicians raise millions of pounds towards new projects.
"The idea is that bands start a campaign with us," says PledgeMusic's UK managing director, Malcolm Dunbar.
"They set themselves a target of what they want to raise in order to finance a new album or a tour. Fans of the band then pledge money towards the project in order for it to happen."
It is not a straight business deal, though. "The fans aren't investing in the band," Mr Dunbar says. "In return for what they've pledged, they get promises from the band.
"It could be anything from a hand-painted record cover to a private performance at their house. There's really no limit to what can be pledged."
PledgeMusic gets 15% of the money raised, but only if the full amount is reached.
Tom Williams is someone who has used PledgeMusic to raise finance. His band, Tom Williams & The Boat, started a campaign with the company in November last year to record their second album.
Cupcakes
"We just felt it was the perfect way for us to go," he says. "It's vital nowadays for bands to engage with their fans.
"We're big on Twitter and Facebook, so we thought using Pledge was a step on from that. The fans loved being part of the band."
Their initial target was to raise £5,000, although they ended up getting well over £6,000. In return for the money pledged, they gave fans favours ranging from hand-made cupcakes and guitar lessons, to potato prints and even house parties.
One of the fans of the band who pledged money towards their campaign was Chris Pope. For £350, Tom and his band played in his girlfriend's living room as a surprise birthday present. Chris thinks it's a great way to feel part of the band.
"I think this way for a band to raise money is great," he says. "As fans, we get something from them and really get to feel part of it all. My girlfriend was made up with the gig at her house. It's good to know my money went towards the album."
Tom says it's all about interaction and giving something back. "The fact that the fans get something back from us makes the whole thing work. We're not a charity and I wouldn't expect fans in this climate to just hand us their money for nothing. This way everyone's a winner."
Probably the most successful fan-funded project to date is by US singer and performance artist Amanda Palmer.
She ignited the conversation around fan-funding when she raised nearly $1.2m (£774,000) on Kickstarter for her latest solo project earlier this year, smashing all records for the site by reaching her initial target in just seven hours.
In return for various promises, ranging from backstage donut eating parties to hand-painted turntables, fans donated money for her to complete her album, an accompanying art book and part of the finance needed for a US tour.
She thinks the funding model is the future. "The music industry has long needed a new system and crowd-funding is it. The game is reversing - the media and the machine are following, rather than creating the content."
'Full potential'
Chris Cook is the business editor of CMU Daily. He looks at the business side of the music industry and believes that, while fan-funding is great, it's still in its infancy and can offer much more.
"We've seen bands starting out get finance for a record, and then get snapped up by a label," he says.
"We've seen established acts free themselves from their record deal to pursue their own musical projects, but we haven't seen a band do the whole thing themselves.
"The exciting area for this kind of model is where a band gets a decent management team, someone with an entrepreneurial drive who can use fan funding to its full potential."
John Robb writes a blog called Louder than War. He agrees with Chris Cook about the potential of fan-funding.
"Choosing this route echoes the old DIY ethos of the punk era," he says.
"Bands don't need the major labels now. Using fans money and engaging directly with them means there's a wider choice for music fans, not just music which will appeal to the widest possible market. It's great. I really think more bands should look at this as something they can use."
There is no doubt that fan-funding is getting a foothold within the music industry. It is becoming a really accessible route for bands and musicians to take.
But with industry experts estimating that it still only makes up about 1% of money spent on financing albums and tours, it could be a while before it is totally accepted as the norm.