US hails 'progress' in Pacific trade talks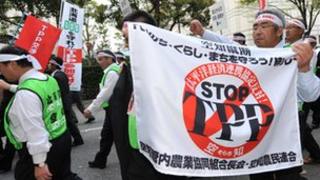 The United States said "significant progress" was made in talks aimed at creating an ambitious trade agreement with eight other Pacific Rim countries.
US officials said areas discussed included customs, telecommunications, cross-border services and government procurement.
Negotiators for the Trans-Pacific Partnership (TPP) ended a round of discussions on Tuesday in San Diego.
The US has said boosting trade with the Asia Pacific region is a priority.
The agreement has been in the works for three years and does not include China.
Negotiators from Chile, Malaysia, New Zealand, Peru, Singapore, Vietnam, Australia and Brunei as well as the US were at the talks.
The office of the US trade representative said significant progress had also been made on rules of origin, investment and financial services.
Officials will now take the proposals back to their respective countries for review.
This week, the US government informed Congress that Mexico and Canada were joining the TPP. This sets off a 90-day waiting period before the two nations can join talks.
Japan said last year it was interested in joining the trade area. However, the move could prove unpopular in the country as it could lead to cuts in import tariffs on a raft of goods.
A further round of discussions is scheduled for September this year.