Federal Reserve keeps policy options open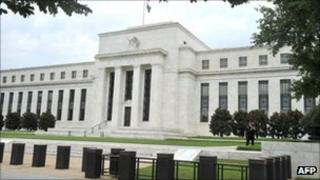 Federal Reserve officials are open to the possibility of a new round of asset purchases, though the US economy may need to get weaker before any further action is taken.
Minutes of the US central bank's June meeting showed "a few" of the 12 policy makers thought further policy stimulus was likely to be necessary.
"Several others" thought extra policy would be necessary if things got worse.
The Dow Jones fell 1% after the minutes were published.
The index later recovered slightly, ending just 0.4% lower.
At the June meeting the central bank extended its $267bn (£170bn) programme of swapping short-term bonds for long-term ones, known as Operation Twist, until the end of the year.
The idea of the programme is to cut the long-term cost of borrowing for businesses and households.
"A few members expressed the view that further policy stimulus likely would be necessary to promote satisfactory growth in employment and to ensure that the inflation rate would be at the committee's goal," the minutes said.
"Several others noted that additional policy action could be warranted if the economic recovery were to lose momentum, if the downside risks to the forecast became sufficiently pronounced, or if inflation seemed likely to run persistently below the committee's longer-run objective."