Superdry owner Supergroup reports 15% fall in profits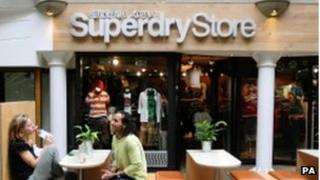 Supergroup, owner of the Superdry clothing brand, has blamed poor accounting and management controls for an almost 15% drop in annual profit.
Pre-tax profit fell 14.7% to £42.8m in the year to 29 April, despite revenue rising by 31.9% to £313.8m.
In the past year the company has issued a string of profit warnings and suffered from stock shortages.
Chairman Peter Bamford said profits had fallen "considerably short of expectations".
"Whilst the tough and volatile economic environment has not helped, our problems have largely been self-inflicted," he said.
"The underlying issue is that our management and operational capacity has fallen behind the needs of a rapidly growing business."
Last Updated at 08 Jan 2018, 16:20 GMT
| price | change | % |
| --- | --- | --- |
| 2060.00 p | 0.00 | 0.00 |
In the past three years, the group has increased its number of UK stores from 42 to 79, while outside the UK its store numbers have risen from 29 to 101.
"Clearly, keeping pace with this level of growth would always have been a challenge, but we should have done better," Mr Bamford said.
Cleaning up an accounting blunder and sorting out stock shortages cost the firm £9m in lost sales revenue and added distribution costs.
Supergroup floated its shares on the London Stock Exchange in March 2010. However, after peaking at a price of 1,820p a share in February 2011 the shares have dropped sharply.
The firm's shares were trading at 382.5p on Thursday morning, up 14% on the day.