Citigroup profits fall 12% in the second quarter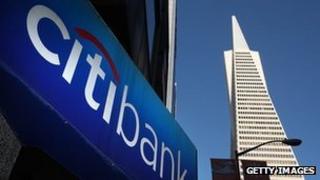 Citigroup, the US banking giant, has reported a 12% fall in net income to $2.9bn (£1.9bn) for the second quarter of 2012.
Revenues were $18.6bn for the period April to June, down 10% on the same period last year.
But in an indication that the US credit market is improving, the bank was able to reduce provision for bad debts from $34.4bn to $27.6bn.
And earnings per share were $0.95, above analysts' expectations.
"Our core businesses performed well in a difficult environment," said chief executive Vikram Pandit.
Repayments
Net income was reduced considerably thanks to a net loss of $424m on the sale of its 10.1% stake in Turkish bank, Akbank.
Last Updated at 23 Jan 2018, 19:57 GMT
*Chart shows local time
price
change
%
78.70

+

+0.11

+

+0.14
Retail banking revenues grew by 32% to $1.6bn as a result of higher mortgage revenues.
Citigroup's net credit losses fell $625m to $1.5bn, a 29% drop, as more of its customers were able to pay back money they had borrowed.
The bank also reduced the amount it released to cover loan losses to $984m, a 50% reduction compared with the same period last year.
While global consumer banking revenues in North America grew 4% to $5.1bn, international revenues fell 4% to $4.6bn, reflecting currency fluctuations, the bank said.
Tony Smith, director at Moody's Analytics, described the results as a "slow healing of the balance sheet" but warned that "revenue growth remains very challenged".
"There's nothing I would call jaw-dropping in the announcement", he said.
"Lower problem loans, higher capital and better liquidity are definitely constructive; [but] the profitability challenge is likely to continue to be an overhang for a while."
In March, Citigroup failed a "stress test" designed by the Federal Reserve to assess how well banks could withstand a financial shock.
Since then Citigroup has been increasing its reserves. Now the bank says its Basel 1 Tier 1 capital ratio - assets held in reserve as a buffer against financial troubles - is 12.7%, compared with 4.9% in March.