Audi opens digital car showroom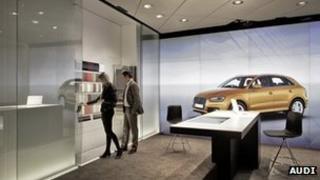 The German carmaker Audi has unveiled a showroom that relies on digital presentations rather than displaying actual cars.
Audi City near London's Piccadilly Circus is the first in what is to become a central part of the marque's global marketing operations.
It will open more than 20 similar showrooms globally by 2015.
Full-size cars will be displayed on vast screens, allowing customers to experience a wider variety of cars.
The number on show in traditional showrooms is naturally limited.
This is becoming a problem for carmakers, as modern design, engineering and manufacturing methods have led to a sharp increase in the range of derivatives of each model made.
Consequently, many in the industry expect other carmakers to follow suit.
Urban presence
Audi's new retail environment is designed to reach more urban customers in areas where few rivals have a presence.
This is particularly important for luxury car companies, which are often trying to attract customers who live in the most expensive areas of major cities.
"These showrooms will be right in the midst of our customers' lives," says Audi's executive sales and marketing director Peter Schwarzenbauer.
Closer relationships
Audi's dealerships will be designed to be entertaining, often by featuring art, culture and design exhibitions, as well as readings or round-table discussions, to attract a greater audience.
This, the carmaker hopes, will give its sales staff the chance to build closer relationships with customers.
"This new retail format brings us even closer to our customers," says Mr Schwarzenbauer.
Several other luxury car companies, including Aston Martin, BMW and Infiniti, are increasingly focusing on urban showrooms that offer a greater level of customer service.
But as yet, Audi insists, it is the first to adopt a digital showroom concept.
A similar showroom for private and corporate jet aeroplanes opened at Hyde Park Corner in London in January.