House prices unchanged in May, says ONS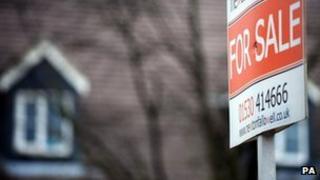 House prices were unchanged on average across the UK in May, according to the monthly index published by the Office for National Statistics (ONS).
While the average price of £228,000 was unchanged from the month before, prices are up 2.3% from a year ago.
However, the annual comparison was influenced by the fact that prices fell in May last year.
Despite fluctuations in the past few months, prices have changed little since the start of the year.
Howard Archer, an economist at IHS Global Insight, said he still expected house prices to fall by about 3% over the rest of this year.
"Flat house prices in May do little to dilute our suspicion that house prices are likely to trend modestly lower over the coming months," he said.
This was a result of, "extended muted activity, low and fragile consumer confidence, weak earnings growth and high unemployment".