Brewer ThaiBev outlines bid for stake in two breweries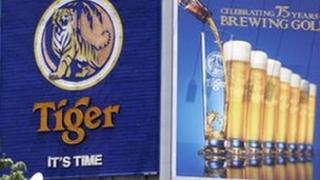 Asia's fast growing beer market is facing a shake up after ThaiBev, Thailand's biggest brewer, offered to buy stakes in two breweries.
Overseas-Chinese Banking Corporation (OCBC) said it had been approached for its stakes in the two companies.
The bid is for an 18.2% stake in Fraser and Neave (F&N), and 7.9% of Tiger Beer maker Asia Pacific Breweries.
Heineken jointly controls Asia Pacific Breweries with F&N and has said it will act to safeguard its interests.
Threat to rivals?
ThaiBev is owned by Thai billionaire Charoen Sirivadhanabhakdi, who listed the company in Singapore in 2006.
It operates distilleries in Thailand, Scotland and China, as well as breweries and soft drink facilities in Thailand.
The two stakes ThaiBev is seeking to buy are valued at about $2.3bn (£1.5bn), based on Tuesday's closing share prices.
The move could be worrying for rivals such as Heineken and Kirin, who also own various shareholdings in F&N and Asia Pacific Breweries.
Heineken holds a 42% stake in Asia Pacific Breweries, while F&N owns 40%. Heineken also owns a direct 9.5% stake in Asia Pacific Breweries.
Japan's Kirin is the second-largest shareholder in F&N with 15%.