Credit Suisse raises fresh capital as profits rise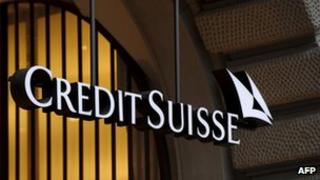 Swiss bank Credit Suisse Group has said it is raising 8.7bn Swiss francs ($8.9bn; £5.7bn) to bolster its capital base to cushion against future losses.
The bank also said that net profit rose to 788m francs in the second quarter from 768m a year earlier.
The Swiss central bank last month told Credit Suisse to raise its reserves because it was "too big to fail".
A strong capital buffer would protect against losses rising from the eurozone crisis or the weak global economy.
A failure by either Credit Suisse or rival UBS - which also received the recommendation from the Swiss National Bank - would threaten the entire Swiss financial system.
Banks around the world are required to boost their capital ratio - a broader measure that includes debts that can be converted into equity - by January 2013 when so-called Basel III regulations will take effect.
"The capital measures that we announced today take any question of the strength of our capitalisation off the table," chief executive Brady Dougan said in a statement.
It said the measures would increase its core capital ratio to 9.4% by the end of the year.
Credit Suisse said 3.8bn francs of the reserves being raised will come via so-called contingent convertible bonds ("Coco bonds") placed to investors from Qatar, Saudi Arabia and Singapore.
These are debts of the bank that would immediately convert into equity - shares in the bank - if the bank breaches the minimum common equity ratio required by regulators.
In this way, the Coco bonds would automatically top-up the banks' capital buffer against losses and would count towards the banks' total capital ratios
Credit Suisse said it also raised its cost-saving target to 3bn francs after cutting 2bn francs in costs in the first half of this year.