New Oriental Education shares slump 33% on fraud claims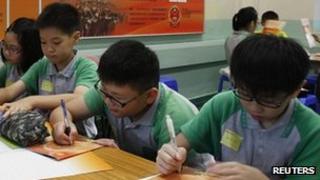 Shares in New Oriental Education and Technology have slumped for the second day running after a research group claimed its accounts were fraudulent.
The Chinese education company's shares, which are listed in New York, fell 33% following the claim by Muddy Waters.
Shares in New Oriental plunged by a similar amount on Tuesday when the company revealed its accounts were being probed by US regulators.
Almost $2bn has been wiped off the company's value this week.
The company was not available for comment when contacted by the BBC.
New Oriental is based in Beijing and provides education services in China. It claims to have a network of 55 schools and a further 609 learning centres throughout the country.
Muddy Waters alleged the company's network of schools were in fact numerous franchises and not, as the company claimed, owned centrally.
"These franchises are not a hidden bonus for investors, rather they are part of a substantial fraud," Muddy Waters said.
It went on to allege that it was "virtually certain" that New Oriental used the upfront franchise and other fees to inflate its cash balances.