Q&A: Co-op buys Lloyds TSB branches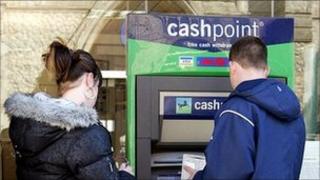 In one of the biggest upheavals for many years in High Street banking, the Co-op has agreed to buy 632 branches from the Lloyds banking group, including all of its Cheltenham & Gloucester branches.
It will be a huge expansion for the Co-op, boosting its presence to nearly 1,000 branches, about 10% of the UK's entire banking branch network.
It will be gaining 4.8 million customers, including 3.1 million with current accounts and 100,000 business accounts.
Both sides aim to complete the deal by the end of 2013.
How will I know if I am being affected?
You will probably be moved to the Co-op if you are a current account customer of any of the branches being sold. You can check which ones these are by browsing the list.
So, what will change for me as a Lloyds TSB customer?
Before the sale goes through, customers will see the name changed above the branches being sold. They will be rebadged as TSB. The Lloyds name will go - and so will the Cheltenham & Gloucester name, above all its 165 branches.
Will my branch sort code or account number be changed?
No. Lloyds TSB says there will be no change to these, either in the run-up to the sale or after it. A spokesman for the Co-op was not quite so emphatic. "It's too early to say. That will be decided between now and when the legally binding agreement is signed later this year," he said.
Come again? You mean this "deal" is not finally agreed?
That's right. It is, so far, a "non-binding" agreement. So in theory, and practice, either side could pull out, though that seems very unlikely.
Will anything else change?
Yes. As part of this rebadging process, before the sale is completed, Lloyds will change the name on what it likes to call its "customer collateral". By that, it means bank statements, cheque books and debit and credit cards. That part of the process will start in the spring of 2013. But a Lloyds spokeswoman has stressed that no-one's cards will stop working. They will simply be reissued with a new name for the bank, in due course.
What about mortgage borrowers?
Some customers who have borrowed mortgages from the Lloyds banking group will also be transferred to the Co-op as part of the deal. But neither bank is yet quite sure how many will move, or how they will be chosen. Anyone with a Cheltenham & Gloucester mortgage can probably assume they will definitely be moved.
What will happen after the deal goes through?
You will then be a customer of the Co-op, but for the time being, your branch will still keep its TSB name. A Co-op spokesman said: "The branches will continue for a period of time as TSB, but will eventually become Co-op ones."
Will any of my Lloyds policies, such as overdraft rates or mortgage rates, change?
The Co-op says there will be no "immediate change". But that is because the deal has not even been finalised, or approved by the likes of the FSA and European Commission. In the longer term, there is bound to be some rationalisation and alignment of the policies and services currently offered by the two banks.