Tiger beer brewer shares jump 17% after Heineken bid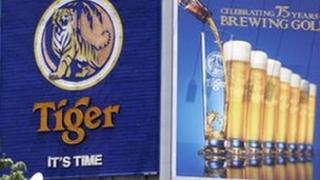 Shares of Asia Pacific Breweries (APB), the maker of Tiger beer, have risen after Heineken made a bid to buy the remaining stake in the firm it does not already own.
Its shares rose as much as 17% to 49 Singapore dollars on the Singapore Exchange.
On Friday, Heineken offered to pay S$50 per share to buy the APB stake owned by Singapore-listed firm Fraser and Neave.
APB is one of the biggest brewers in Asia.
Shares of Fraser and Neave (F&N) also rose 5% in early trade.
'Some uncertainty'
The bid by Heineken comes at a time when beer companies have been trying to get a bigger share of the fast-growing market in the region.
Thailand's biggest brewer, ThaiBev, has also offered to buy shares in F&N and APB.
F&N has said in statement that its "board is considering the offer from Heineken, which remains open for acceptance until 27 July 2012".
However, analysts said that it was not clear whether F&N will accept Heineken's bid.
"There's still some uncertainty as it is not clear how F&N will react to the offer," said Goh Han Peng, an analyst at DMG & Partners Securities.
Mr Goh added that if F&N shareholders reject Heineken's bid, the firm "may come up with a hostile offer for APB, meaning they will go to the minority shareholders".