IHH Healthcare shares jump 10% on debut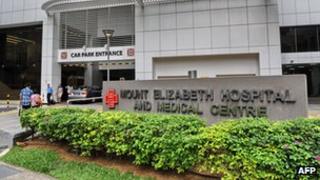 Shares of Asia's biggest hospital operator IHH Healthcare have jumped on their debut as investors hope for good returns amid growing demand for healthcare in the region.
The firm's shares rose 9.6% to 3.07 ringgit on the Malaysian Stock Exchange.
They also rose 9.6% to 1.22 Singapore dollars on Singapore's main exchange.
IHH, which opted for a dual listing, had raised $2.1bn via its share sale, the world's third biggest this year.
"We are quite happy with the start of our stock trading, even though it is just under 10% premium," said Lim Cheok Peng, managing director of IHH Healthcare.
"It shows a vote of confidence from investors towards us."
'Right industry'
Demand for healthcare in Asia is expected to grow steadily amid rising income levels and aging populations.
With 30 hospitals and clinics in Malaysia, Singapore, China and other Asian countries, IHH Healthcare is a leading player in the sector in the region.
Analysts said that given its dominant position, the firm is likely to see robust growth in the near term.
"The outlook for them is very positive. We have a growing awareness of healthcare needs in Asia, so the demand is there and is increasing," said Ooi Chin Hock of M&A Securities.
"It is the right industry to be in now. There is a lot of growth potential."