London 2012: Federer tops Forbes Olympic rich list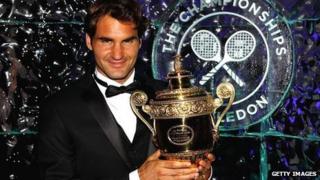 Swiss tennis ace Roger Federer has been named the highest-paid Olympic athlete, by US business magazine Forbes.
The Wimbledon champion was estimated to have earned $54.3m (£35m) in the past 12 months, Forbes said.
The Forbes list is dominated by tennis and basketball players.
The one athlete among the highest-paid Olympians from outside these two sports is 100 metres gold medal holder Usain Bolt, who is placed seventh with estimated earnings of $20.3m.
Triple-gold medallist Bolt earns most of his income through product endorsements and sponsor bonuses for record race times.
The second highest earner is basketball star LeBron James, with an estimated annual earning of $53m.
Fellow NBA big-name Kobe Bryant is in third place on $52.3m.
Russian tennis star Maria Sharapova is the top earning female Olympian, in fourth place with an estimated $27.1m income.
British tennis player and Wimbledon runner-up Andy Murray is ranked at 16, earning $12m.