Lloyds makes half-year loss after upping PPI provision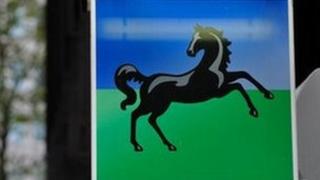 Lloyds Banking Group has posted a half-year loss of £439m and has increased provision for payment protection insurance (PPI) claims by £700m.
It is the second time this year Lloyds, which is 39% taxpayer-owned, increased the provision and takes the total to £4.27bn from an original £3.2bn.
Lloyds is also caught up in the latest banking scandal over Libor.
It said some members of the group were defendants in private law suits in the US over the setting of Libor.
In a statement, the bank said: "Certain members of the group have received subpoenas and requests for information from certain government agencies and are co-operating with their investigations.
"In addition, certain members of the group have been named as defendants in private lawsuits, including purported class action suits in the US with regard to the setting of Libor."
Libor rate-fixing dates back to 2005, when Barclays was found by regulators to have given false reports of the amount it was paying to borrow from other banks in order to increase profits.
Barclays is the only bank to be fined for the practice so far, but many rival major banks are also being investigated for fixing the key interest rate.
Lloyds said it was not possible to give any guidance about the scope or outcome of the various regulatory investigations or private lawsuits.
Sifting claims
Since the PPI scandal came to light, millions of people have been found to have been sold loans with PPI attached, which was supposed to cover repayments in the event of illness or unemployment.
Many people were either not told they had bought it, or had bought it and were not eligible to claim on it.
The consumers' organisation, Which?, welcomed the extra provision from Lloyds.
Its chief executive, Peter Vicary-Smith, said: "It's good that Lloyds are setting aside more money for PPI claims - consumers should get back what they are rightly owed without hassle.
"The results today show that PPI is on course to become the biggest consumer financial scandal of all time, exceeding pensions mis-selling and the endowment mortgage scandal."
Ismail Erturk, senior lecturer in banking at Manchester Business School, said the problem was sparked because retail banking arms depend on product sales to make money: "Sales-driven performance targets in retail banking is causing mis-selling and unhealthy focus on cost ratios is causing under-investment in retail banking infrastructure.
"[Lloyds chief executive Antonio] Horta-Osorio... should be telling us what [he is] going to do to change this culture in retail banking."
The provisions do not simply cover the cost of compensation claims for those sold inappropriate products, but also the cost of dealing with unfounded claims.
Mr Horta-Osorio has said that one in four claims relates to people who did not have a PPI policy with the bank in the first place, but establishing whether these people have a case and maintaining contact with them still costs time and takes money.
Lending
Mr Horta-Osorio also said he was planning to move swiftly to implement banking reform that calls for retail banking - to be ring-fenced from the more risky investment banking by 2019.
He said: "We believe there is real competitive advantage in moving faster to become a ring-fenced UK retail and commercial bank, and this will be another important step toward providing sustainable returns for our shareholders and support to our customers and communities."
Earlier this month, Lloyds, which is the biggest bank in the UK and owns Halifax Bank of Scotland, agreed to sell more than 600 of its branches to the Co-operative Bank as part of a divestment programme ordered by competition authorities.
Lloyds said the outlook for the UK economy was "subdued and vulnerable to developments in the eurozone".
On lending to small businesses, it said it was on track to meet its commitment on lending £12bn this year and would be able to raise this by £1bn because of the government's recently announced Funding for Lending scheme.
The bank increased underlying profit by £715m to £1.1bn.