Volkswagen's record sales boost profits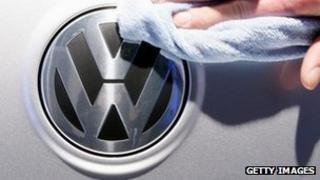 German car giant Volkswagen has sold a record number of vehicles so far this year, helped by its presence in developing markets.
Net profits for the first six months of the year were 8.8bn euros ($10.7bn; £6.9bn), up 36% from a year earlier.
First half deliveries rose 8.9% to a record 4.6 million vehicles.
Volkswagen, whose brands include Audi and Skoda, has major markets outside the depressed eurozone. Sales in China and Latin America rose sharply.
Earlier this month, Volkswagen agreed to raise its stake in Porsche to give it total ownership of the luxury sportscar maker.
Its Bentley brand did particularly well, with sales rising almost 50% to 5,000 models.
Professor Doctor Martin Winterkorn, the chairman of Volkswagen's management board, said VW's geographical spread had contributed to its strong performance.
"Our strong position in the international markets will enable us to outperform the market as a whole - despite the challenging environment."