Air France-KLM losses widen on redundancy costs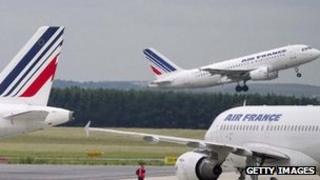 Europe's biggest airline, Air France-KLM, has seen losses widen as a result of redundancy payouts.
The Franco-Dutch carrier lost 895m euros ($1.1bn, £700m) in the three months to June, against a 197m euro loss a year earlier.
It took a one-off charge of 368m euros to cover redundancy payments as part of plans to cut 10% of its workforce.
Revenues rose 4.5% in the quarter to 6.5bn euros, with the number of passengers up by 2.4%.
However, the carrier saw a drop in its freight business due to the weak economic backdrop in Europe.
The airline also saw a big rise in fuel costs, which jumped by 469m euros.
Operating losses narrowed to 66m euros from 145m euros a year earlier.
'Crucial' plan
Last month, Air France-KLM announced plans to cut more than 5,000 jobs from its workforce as part of a plan called Transform 2015.
It said at the time that it hoped to avoid compulsory redundancies through natural wastage and voluntary redundancies, and estimated about 1,700 jobs could be lost through natural turnover.
However, last week two out of three of the unions representing cabin crew rejected the cost cutting plans. Pilots are set to vote on the plans next month.
"These results demonstrate how crucial the success of the Transform 2015 plan is to the turnaround of the group," said chief executive Jean-Cyril Spinetta.
"In an increasingly uncertain global economic environment compounded by oil price and exchange rate volatility, an improvement in our productivity and costs is even more necessary."