London 2012: Missing Olympics tickets refunded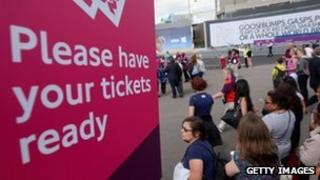 Sports fans who bought tickets from unauthorised sellers of Olympics tickets will receive a full refund, a regulator has said.
Thousands of supporters failed to receive the tickets they bought from the Norway-based traders, and others who got tickets could be refused entry.
Now the sellers - Euroteam AS, Uncus AS, and Ticket and Travel AS - have agreed to give refunds.
This comes after an Office of Fair Trading (OFT) investigation.
The regulator said it had taken informal action against 236 other websites, operated by other traders, that were offering Olympic tickets for sale but were unauthorised.
The OFT said the action would prevent consumers from continuing to be misled by them.
Warning
The investigation into 12 websites, owned and operated by the Norway based traders under controlling director Andreas Gyrre, was launched over concerns that they were not authorised to sell Olympics tickets.
In July, the OFT was informed that 20,000 tickets had been purchased from the websites, but there were only 5,000 available.
People with those 5,000 tickets might also be refused entry to the Games as they were bought from an unauthorised seller.
Investigations, which included the Metropolitan Police and Serious Organised Crime Authority (SOCA), will continue to establish how these tickets were obtained.
Now the companies behind these websites have told the High Court that refunds will be given to anyone who did not receive tickets or who were refused entry.
"This is an important agreement from the traders to provide refunds," said Jason Freeman, of the OFT.
"Lots of people want to go to see the Olympics, but you need to be careful about where you go to get your ticket.
"Only authorised sellers can guarantee to supply you a ticket, and if you buy from someone else, even if your ticket arrives, you may be refused entry to the Games."
People who were refused entry should ensure that they retain their tickets, or get a receipt from the Games organisers if their ticket was seized, the OFT said.
They should send a copy of their void ticket or the receipt to the trader when applying for their refund. The traders have also promised the High Court that they will make their contact details available on their websites so that customers can submit their refund requests easily.