Euro crisis: ECB meets amid bond intervention hopes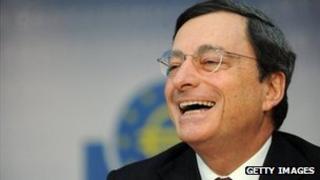 The European Central Bank (ECB) holds its latest meeting amid much speculation that it will take action to bring down Spain's cost of borrowing.
ECB president Mario Draghi has said he is ready to do "whatever it takes" to support the euro, prompting a rally in shares and the single currency.
Fears that Spain will need a bailout have prompted speculation that the ECB will take unprecedented steps to help.
One commentator told the BBC that it was "crunch time for the euro".
David Llewellyn, vice chairman of the Banking Stakeholder Group at the European Banking Authority, said: "Expectations are very high, the markets recognise that past measures simply haven't worked.
"Above all if nothing is done to lower and stabilise the borrowing costs of countries like Spain and Italy then their future within the euro must be in question."
Mr Draghi will hold a news conference later on Thursday.
Spanish borrowing costs
Spain's borrowing costs rose again on Thursday emphasising the need for swift action.
The Spanish government sold 3.1bn euros of debt at an auction.
The average yield on 10-year bonds rose to 6.65% from 6.43% at the last auction on 5 July.
Last week, that 10-year yield hit a record high of 7.6% on the secondary market, where bonds sold at previous auctions are bought and sold.
This raised concerns that it would need a full bailout, beyond the help for its struggling banks which has already been agreed.
Greece, Portugal and the Republic of Ireland all had to seek international bailouts when their borrowing costs reached similar levels.
ECB options
An announcement on any measures to help Spain will come shortly after the central bank reveals any changes in interest rates. In July, the ECB - which sets the cost of borrowing for the 17 countries which use the euro - cut its key rate from 1% to 0.75%, a record low for the eurozone.
At a conference in London last week marking the start of the Olympics, Mr Draghi said: "Within our mandate, the ECB is ready to do whatever it takes to preserve the euro. And believe me, it will be enough."
Many investors took that to be a hint that the ECB might restart its Securities Markets Programme (SMP).
The scheme - introduced in 2010 - allows the ECB to buy large quantities of government bonds from banks and other financial institutions on the open market.
That, in turn, allows indebted eurozone governments to borrow money at rates much lower than those offered in the commercial bond markets.
The last SMP purchase took place at the end of January. Since then, Mr Draghi has repeatedly reiterated his resistance to large-scale bond purchases, saying it was up to governments who needed support to help themselves.
But there is controversy around any such plan as the ECB is forbidden from lending money to European governments under its constitution. Notably, it faces opposition from Germany, its biggest funder.
Earlier this week, the Bundesbank - the German central bank which holds a seat on the ECB's Governing Council - took the unusual step of posting an English translation of an interview with its president Jens Weidmann from a month ago.
It said that the ECB should be aware that its independence "also requires it to respect, and not overstep, its own mandate".
The SMP is just one of the tools at the ECB's disposal to try to bring down borrowing costs:
Acting as a bailout fund agent: Using money from the bailout funds, the European Financial Stability Fund (EFSF) or the planned European Stability Mechanism (ESM), to buy bonds directly from eurozone governments
Cutting base rate: Lowering the key interest rates used to calculate the cost of borrowing
Negative deposit rate: Charging banks who deposit money with the ECB, encouraging them to lend it to firms and households instead
Bond spread target: Setting a target for the difference between German bond yields and those of other eurozone countries
Setting an effective target for the borrowing costs for eurozone countries such as Spain and Italy backed up by a promise to buy bonds in large quantities in order to maintain this level is probably the least controversial move.
If bond investors fully believed the ECB's commitment to back up this promise with action then they could adjust their expectations for bond yields without the ECB spending a single penny.
However, in reality, investors would be likely to test the ECB's resolve so it is likely to have to restart its SMP bond-buying programme in combination with any such target.
Interest rate cuts could lower the cost of borrowing for firms and households if passed on by banks however, they are likely to have little impact on the high borrowing rates of governments such as Spain and Italy which is currently driving the debt crisis.