Sky's movie strength cleared by Competition Commission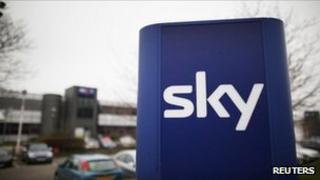 Sky's strong position in the pay-TV movie market "does not adversely affect competition", the Competition Commission has confirmed.
The commission's final report upholds its previous assessment given back in May.
It again said that the arrival of streaming services such as Netflix and Lovefilm had increased consumer choice.
Sky, which is first to broadcast new Hollywood films on TV in the UK, said it welcomed the decision.
Laura Carstensen, who led the commission's inquiry, said: "We have seen significant change in pay-TV movie services in the course of our inquiry, and have considered the implications of these developments carefully in reaching our final views.
"It is clear that consumers now have a much greater choice than they had a couple of years ago when our investigation began."
'Dynamic marketplace'
In a statement, Sky said there was "overwhelming evidence that UK consumers are well served by strong competition between a growing number of TV providers, including those offering movies".
It added: "As this dynamic marketplace continues to evolve, we remain committed to innovating for customers so that UK consumers continue to benefit from choice, value and innovation."
In a provisional finding in August last year, the commission had said Sky did restrict competition because of its dominance of the pay-TV movie market, which it said led to higher prices and reduced choice.
However, the commission subsequently changed its mind.
In its final report, the commission also said that it welcomed the launch of Sky Movies on Now TV, the broadcaster's internet TV service. This allows customers the choice of subscribing to Sky Movies separately from their subscription to other pay-TV content.
BT said it was "very disappointed" by the commission's final report.
The telecoms group, which runs its own TV service called BT Vision - a mixture of Freeview, subscription and on-demand services - said Sky's ability to screen the latest Hollywood films before its rivals continued to restrict competition in the pay-TV movie market.