Manchester United: Ferguson denies share float windfall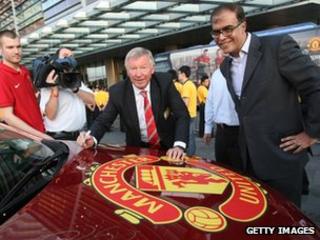 Sir Alex Ferguson has denied speculation that he stands to benefit financially from Manchester United's imminent share flotation in New York.
There were reports that club employees would benefit from a share incentive scheme, including Sir Alex.
"There is not a single grain of truth in this allegation," he said in a statement sent to the Manchester Evening News and other papers.
The club plans to raise as much as $330m (£210m) in a share listing.
A Manchester United spokeswoman confirmed the statement, but refused to release a copy to the BBC.
The club has been controlled since 2005 by billionaire US sports investors the Glazer family, who also own the Tampa Bay Buccaneers American football team.
'No grain of truth'
"Being aware of the media coverage that is currently ongoing I felt, on this occasion, that I should make my position clear to the Manchester United fans," he said.
"In regards to suggestions that I have praised the Glazer family because I stand to financially benefit from the proposed IPO, there is not a single grain of truth in this allegation.
"I do not receive any payments, directly or indirectly, from the IPO.
"Ultimately, I run the football side of this club and in order to do this, you need backing from above. The Glazer family have let me get on with my job - there is no interference or obstruction, only support.
"I am speaking out because I do not want a situation to develop whereby the media and other parties create a rift, however small, between myself and any Manchester United fan. I've spent 25 years of my life pushing this club forward and not only could I not have done it without those fans, I do it for them."
In documents filed with the Securities and Exchange Commission, the football club recently said it would sell 16.7 million shares at between $16 and $20 each, raising as much as $330m for a 10% stake in the club.
Manchester United was recently called the most valuable club in sport, worth $2.23bn, according to Forbes magazine.
United has said it plans to use the proceeds to repay debt.
The club currently has £437m of debt and £70m in cash. The Premier League giant, which came second last season and have won a record 19 titles, is listing on the New York Stock Exchange.