Japan Airlines to raise $8.5bn as it re-lists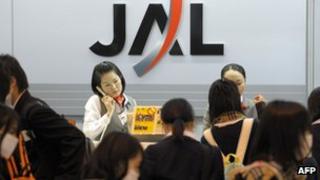 Japan Airlines is planning a share sale two years after it received a government-backed bailout in one of Japan's biggest bankruptcies.
The Tokyo bourse approved the re-listing, which is expected to raise 663bn yen ($8.5bn; £5.5bn).
The airline said on Thursday it had doubled its profits in the April-to-June period compared with last year.
The strong yen has increased the demand for overseas travel, providing a boost for the carrier.
The Enterprise Turnaround Initiative Corporation (ETIC), which currently owns the airline, will sell 175 million shares on 19 September at a tentative price of 3,790 yen each, it said in a statement on Friday to the Ministry of Finance.
The ETIC became the largest shareholder in the airline as part of the restructuring after the company filed for bankruptcy protection in 2010 and was de-listed from the Tokyo Stock Exchange.
The ETIC put 350bn yen into the airline, which cut jobs, retired aircraft and reduced its debt as part of a turnaround.