Toyota sees profits surge as its recovery continues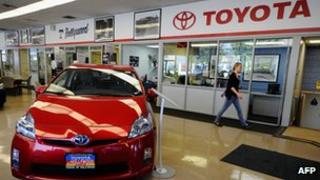 Toyota's profits have surged in the first quarter boosted by strong sales in Japan and the US as it recovers from last year's natural disasters.
Net profit was 290bn yen ($3.7bn; £2.4bn) in the April to June period, up from 1.1bn yen a year earlier.
Toyota's sales plunged in the same period last year, after it was forced to suspend production due to the earthquake and tsunami in Japan.
Toyota said its sales in Japan rose by 81.6% compared with a year earlier.
Revenues in North America rose by 86.6%.
Japan's largest carmaker said: "increases in both production volume and vehicle unit sales and cost reduction efforts", had contributed to the jump in profits.
The carmaker kept its forecast for annual net profit unchanged at 760bn yen.
The yen factor
Analysts said that while the numbers were better than expected, Toyota continued to face challenges in the near term, not least from a strong currency.
The Japanese currency has gained more than 6% against the US dollar since mid-March.
This not only makes Japanese cars more expensive to foreign buyers, but also dents profits when Toyota converts its overseas earnings into yen.
Koji Endo, an auto analyst with Advanced Research Japan in Tokyo told the BBC a lot of the parts that are used by Toyota's factories in other countries were also exported from Japan.
He explained that a strong yen made those parts more expensive and further hurt the firm's earnings.
Mr Endo warned that as the yen remained strong against most global currencies, "the impact on profits will be bigger than previously expected".
Tax breaks
One of the key factors behind the increase in car sales in Japan has been the incentives being offered by the government on eco-friendly vehicles in a bid to boost the country's car industry.
Japan has reintroduced a scheme giving a subsidy of up to 100,000 yen per car on such vehicles.
However, the scheme has a limit of 300bn yen and will expire once that amount is reached.
Most analysts expect the scheme to end within the next few months and say that it may have a big impact on the sales of Japanese carmakers.
"Tax incentives are expected to expire anytime in the near future and sales may nose dive as a result," warned Mr Endo.