Eurozone companies 'weak in July'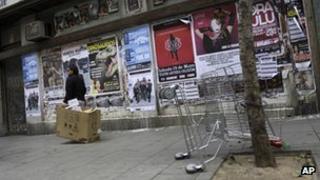 Europe's manufacturing and service provider sectors both shrank in July, the 11th consecutive month of contraction, according to an influential survey.
The July Markit purchasing managers index (PMI) came in at 46.5 in July from 46.4 in June.
Any figure below 50 indicates a contraction.
The services sector on its own managed to rise to 47.9 in July, from 47.1 in June.
Both the eurozone's manufacturers and its service providers reported lower levels of output in July.
But manufacturing fared worse, as production shrank at its fastest pace since May 2009.
Service sector business activity across the eurozone fell for the sixth month running.
New business down
Markit said that the volume of new work taken on by manufacturers and service providers in the eurozone shrank more sharply than expected, with service providers seeing new business demand shrinking in July at its fastest pace in three years.
Eurozone service sector businesses said they did not hold out any hope of seeing any growth in 2012.
Even the rate of growth among German businesses was its slowest in three years.
"The big worry is that the downturn in Germany may be becoming more entrenched, suggesting that the largest euro economies are seeing convergence in collective and mutually-reinforcing decline," said Chris Williamson, chief economist at Markit.
But Ireland saw output rising in July, as it did in June - the only economy in the Eurozone to do so, according to the PMI data.
Retail crumbs of hope
Meanwhile, official data from statistics bureau Eurostat found that retail sales for the 17 countries using the euro rose by 0.1% in June, compared with May.
Sales of food, drinks and tobacco in the euro area rose in June by 0.4% from May's figures.
Slovenia, Latvia and Luxembourg saw the biggest monthly increases in retail sales in June.
Ireland, the United Kingdom and Romania saw the largest monthly decreases.