Sportingbet sticks to full-year profit targets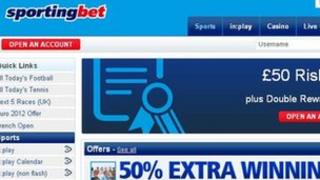 Sportingbet has said its full-year profits will meet expectations, despite continuing "challenging economic conditions" in Europe.
The online gambling firm said it was also being hit by higher regulation and taxation in Europe.
It had to suspend its Spanish unit temporarily in March after a court upheld an injunction brought by a casino firm.
By contrast, Sportingbet's Australian business was performing "strongly".
In May, the company reported a big fall in quarterly group-wide pre-tax profits, down to £300,000 from £12.1m a year earlier.
Sportingbet's Spanish operations have since been restarted.