Jaguar boosts profits at Tata Motors parent company.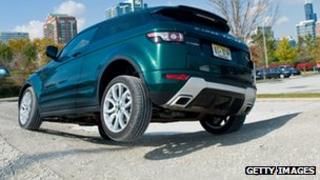 A 34% rise in sales by luxury carmaker Jaguar Land Rover (JLR) boosted Indian parent company Tata Motors' profits during the April to June quarter.
Net profits came in at 22.45bn rupees ($405m; £260m), up 12% when compared with the same period a year earlier.
The UK subsidiary's strong performance helped offset weak car, truck and bus sales in India, but failed to mollify investors.
Shares fell because investors had expected profits of 27.61bn rupees.
Tata failed to meet those expectations as passenger car sales in India fell 10% during the period, while commercial vehicle sales rose 1.3%.
By contrast, JLR sales rose 34.4% to, bolstered by strong demand in Russia and China.
Foreign exchange losses, resulting from a depreciating rupee, also curbed the carmaker's profit growth.
Revenues fell 8.9% to 105.9bn rupees, with JLR accounting for about 40% of the earnings.