Indian inflation slows in July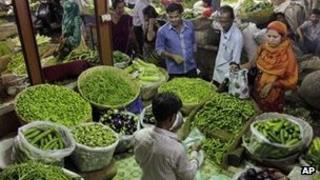 India's wholesale price index slowed again in July, rising 6.87%, which was lower than had been expected.
That figure is down from 7.25% in June and 7.55% in May.
The slowing inflation was largely due to fuel prices, although the rises in food prices also slowed slightly.
While inflation is still higher than the government would like, the figures make an interest rate cut more likely in September, when the next Reserve Bank of India decision is due.
"The September rate decision will likely be a judgment call by the central bank on whether they want to show confidence in the new finance minister and support growth, or stick to the tougher line," said Dariusz Kowalczyk at Credit Agricole CIB in Hong Kong.
"Weak industrial output and very poor exports suggest that there is rate cut scope, but we need to see how the monsoon develops and what the outlook will be for food prices by then."
Until now, persistently high inflation has stopped the central bank lowering its main interest rate.
The Reserve Bank of India cited inflation risks for its decision to keep the interest rate at 8% last month, despite a slowdown in India's economic growth. The country expanded at its lowest rate in nine years in the quarter to March.
Food prices rose just over 10% in the year to July, down from the 10.8% in the year to June.
Fuel inflation slowed to 6% in July from 10.3% in June.
The key factor determining food prices remains the amount of rainfall. If the monsoon season, which runs from June to September, is insufficient, India will be forced to import more, pushing the price of food higher again.
A weaker rupee, which hit a record low of 57.32 to the dollar in June, puts further pressure on India's economy by lowering its purchasing power.
"Concerns regarding the magnitude of rainfall in the latter half of the monsoon season are expected to result in food inflation remaining firm in the near term," said Aditi Nayar, economist at ICRA.
The Reserve Bank of India aims to keep its headline inflation rate at about 5%, but it has remained above this for more than two-and-a-half years now.
However, with the inflation rate now much lower than its 9.52% average for the past two years, analysts say that a cut in interest rates by the end of the year is now a possibility.
"We don't need to see inflation at 5% to get the Reserve Bank of India to cut [interest rates] in the context of what is very weak growth," said Robert Prior-Wandesforde, Asia economist at Credit Suisse.