China cars recalled in Australia over asbestos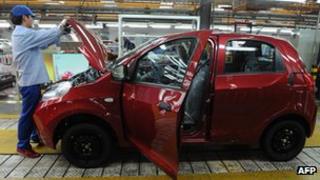 Some 23,000 cars made by China's Chery Automobile and Great Wall Motor Company have been recalled in Australia after asbestos was found in some components.
The import and use of asbestos, which is heat resistant, has been prohibited in Australia since 2004.
Asbetos fibres are believed to cause serious illness, including lung cancer.
However, the Australian Competition and Consumer Commission (ACCC) said the asbestos did not present "any risk to consumers during use of the vehicle".
It said the asbestos was bound into gaskets in the engine and exhaust system.
But it warned consumers of carrying out any "do-it-yourself maintenance" on the vehicle, saying such repairs may disturb the gaskets.
The ACCC said the asbestos had been detected by customs officers, which triggered a safety investigation.
The Australian Manufacturing Workers Union has called for strict action against the firms.
"If companies cannot guarantee that they do not have deadly substances in their vehicles, then simply they should not be able to import their products," Paul Bastian of the union said in a statement.
"We call on prosecutions to be served on anyone who imports asbestos into Australia."