The Olympic ripples hit the Lake District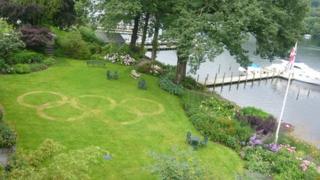 Eyebrows were raised in some parts of the UK when Spencer Dale, the Bank of England's chief economist, said the Olympics would help bring the economy out of recession this summer.
He was talking about the value of the ticket sales and TV rights being chucked into the national accounts.
But in the Lake District, one of the UK's top holiday destinations, the sporting extravaganza has dented the important tourist trade at the peak time of the year.
How come?
Japanese visitors, who love the Lakeside scenery and the history of the author Beatrix Potter, were priced out of London when their tour operators tried to set up trips for this summer.
That meant many simply did not come to the UK this year.
I asked some local businesses how they were coping, and what, if anything, should be done to bring the missing visitors back.
Clive Wilson, general manager, the Lakeside Hotel
In his 25 years at the Lakeside hotel Clive Wilson has seen plenty of ups and downs, including a massive flood three years ago.
The privately owned four-star hotel is thriving again and currently it is almost full with nearly 90% occupancy.
But for the two to three weeks during the Olympics, occupancy rates rates were down to less than 70%.
That was a big blow at the height of the peak season, when the hotel makes most of its money.
"Unfortunately this year we have seen the complete disappearance of any kind of foreign visitors, especially the Japanese. When they come long-haul from overseas they come into London then come out to the Lake District.
"We are always a second feed from that. But that business, of people from Japan and China who come in bulk on tours, is 75% down from previous years.
"There was no accommodation in London because of the Olympics, and there was the general message to avoid London because of that, as well.
"The impact will be seen later in the year, when down the line, investment in refurbishment and everything else is going to be affected."
Andrew Simon, finance manager, Windermere Lake Cruises, Bowness
The Windermere cruise firm has 15 boats of varying sizes and is one of the top 10 paid-for tourist attractions in the UK, with 1.3 million passengers last year.
It is also a big local employer with up to 170 staff in the summer and 100 or so in the off-season.
The recession and the nationwide bad weather had already cut passenger numbers by 10% or so earlier this year.
But during July, in the run-up to the Olympics, numbers were down by 22%. And groups of foreign visitors have dropped by 38% in August so far.
"This area has a lot of visitors from China and Japan. Their general routes start in London. With the Olympics they have struggled to get the hotels at the rates they are prepared to pay, so it has meant tours have been cancelled.
"We hope to see a bounceback next year but whether it makes up for the volume of visitors lost this year, we will have to see.
"We have also seen the knock-on effect on the number of coaches from other parts of the UK who would have been coming here with UK customers, because there has been such demand to take coaches to London to transport officials.
"From the late end of the season, the winter months, we will have to run a tighter operation. There will be fewer jobs and we will have to lay off some people from seasonal jobs a bit earlier, and reconsider our winter maintenance projects to see what we can afford."
Tony Blaney, Fairfield House guest house, Bowness
Tony has run the guest house with his wife Liz for the past 10 years.
He says they have had a terrific time and it has been a successful business.
They have doubled their turnover despite offering fewer bedrooms, thanks to a major refurbishment a few years ago.
But the Olympic effect has been clear, with business for July and August down 20% on last year.
"Typically we would have 25 bookings a month from Japanese people, now we are down to five. It is a huge drop.
"The travel agents tell us, even as early as February, that they could not get the flights they wanted.
"This isn't fatal, at least not for us, but what concerns me is the smaller B&Bs, who provide 80-85% of Lake District accommodation.
"The local business, from the big conurbations like Manchester, Leeds and Liverpool, has also stopped coming in the same numbers as before."
Andy Poole, The World of Beatrix Potter Attraction, Bowness
Beatrix Potter and her stories are hugely popular in Japan. They are even used to teach English to Japanese children.
That is why thousands of visitors from that country head to the Lake District and the Beatrix Potter Attraction in Bowness.
Its chief executive, Andy Poole, says visitor numbers overall are about 20% down on last year.
But he knew a long time ago that the Olympics would deter some of his now traditional customers from abroad.
"I was in Japan last October and Peter Rabbit and other characters are a massive draw to the Lake District, Beatrix Potter is very big in Japan.
"When the Olympics came around, we knew a year ago that the Japanese tour operators had decided not to send people here.
"I visited more than a dozen tour operators in Japan and they all told us the same thing.
"There was a big perception that the hotels in London would be very, very expensive. So a year ago they decided to write it off.
"It's by no means a disaster, we prepared for it. We took on fewer seasonal staff.
"And we have been told by tour operators that they will be back in greater numbers next year."
Tony Benton, Lazy Daisys Lakeland Kitchen, Windermere
Tony Benton bought his Windermere restaurant business six years ago.
Not surprisingly, tourists are the bulk of his customers.
It was a rundown business when he took over, but takings have risen every year since, until now.
"Business when the Olympics have been on has not been good at all. We are a pretty robust business but we are down 10% on last year.
"It took me by surprise, I did not think the Olympics would affect us. I think it is going to take some time to recover.
"We have two weeks off then the Paralympics kick in, we just don't now how it is going to affect the next four weeks.
"We have to grit our teeth and keep on going, but you have to have your business head on and make adjustments, for instance taking on fewer seasonal staff."
Stephen Broughton, the Mountain Goat tour company, Windermere
The Mountain Goat tour firm in Windermere has been going for 40 years now.
It specialises in taking minibus loads of tourists on sight-seeing trips to the more inaccessible parts of the Lake District where bigger coaches cannot go.
With a fleet of 14 vehicles and 34 staff in peak season it too is a sizeable business.
Stephen Broughton says he knew, as far back as 2010, that Japanese tourists would avoid the UK this year because of the Olympics.
"The last four weeks have shown a remarkable downturn. Tour numbers have dropped by 25%.
"We knew it was going to happen because there was an inability [of tour groups] to get it into London.
"Five businesses locally did a small mission to Japan last year but they told us they were going to avoid us for the duration.
"We will need some assistance to make it good for next year. Tourism is worth £2bn alone here in Cumbria.
"I hope we will get as much support as possible from politicians to support a strong marketing drive to say 'Sorry you couldn't come, but it would be great if you came back next year.'
"It's a hard competitive market and we have to be out there fighting our corner."