Virgin's Branson 'disappointed' over West Coast Mainline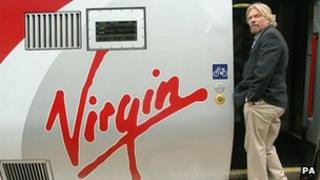 Sir Richard Branson says it is "extremely disappointing" that Virgin Rail has lost the West Coast Mainline franchise to rival FirstGroup.
He suggested FirstGroup, the UK's largest rail operator, had paid too much and said it was unlikely Virgin would bid for other rail franchises.
But ministers said the deal would bring "big improvements" for passengers.
And FirstGroup chief executive Tim O'Toole said it was a good deal for the company and the public.
'Flawed system'
Sir Richard said: "[It is] extremely disappointing for Virgin, and for our staff that have worked so hard to transform this railway over the last 15 years.
"The West Coast Mainline has been transformed from a public liability into a valuable asset for the UK, worth many billions of pounds."
He said the current bidding system was "flawed... too costly and uncertain".
Stagecoach, which owns 49% of Virgin Rail, said the reason it had failed to secure the new franchise was because FirstGroup had contracted to pay "significantly higher premium payments" to the Department for Transport.
The company's chief executive Sir Brian Souter said he was "bitterly disappointed" with the government's decision.
'Sustainable growth'
But the government said customers would benefit from FirstGroup taking over the line.
"This new franchise will deliver big improvements for passengers, with more seats and plans for more services," rail minister Theresa Villiers said.
She added that the operator would reduce some fares significantly during the first two years of running the service.
FirstGroup said it would "offer substantial improvements in the quality and frequency of services".
Mr O'Toole said: "Our bid also delivers value for taxpayers by returning premiums to the government, underpinned by sustainable growth in passenger numbers and revenues from the utilisation of significant available capacity," he said.
'Aggressive bids'
However, some have questioned the ability of FirstGroup to deliver on its pledges.
"There have been many examples… where there have been very aggressive bids which the government has awarded and then quite soon afterwards, the people have handed back the keys and walked away from the contract without any real penalty," said Stephen Glaister, Professor of Transport and Infrastructure at Imperial College London.
"That's a very unsatisfactory situation from a public interest point of view."
According to Tony Miles of Modern Railways magazine, some economists "have openly said that if FirstGroup have got this wrong, it will probably kill off the group. Some people are saying they've bet the farm and everything they own on it".
Sir Richard described his company's bid as "realistic".
"We did not want to risk letting everybody down with almost certain bankruptcy at some time during the franchise, as happened to GNER and National Express, who overbid on the East Coast mainline," said Sir Richard in a statement.
"Sadly, the government has chosen to take that risk with FirstGroup."
FirstGroup investors also appeared to be unconvinced by the deal. Shares in the company closed down 6.1%, while shares in Stagecoach ended the day up 1.9%.
New trains
FirstGroup, under the name First West Coast Limited, will take over the franchise from 9 December and is due to operate the service until 2026.
The West Coast Mainline route serves 31 million passengers travelling between London, the West Midlands, the North West, North Wales and the central belt of Scotland.
FirstGroup said it would introduce 11 new 125mph six-car electric trains on the Birmingham-to-Glasgow route and provide more direct services between destinations.
Additional Pendolino tilting trains currently being introduced by Virgin will deliver more than 28,000 seats a day.
The government says FirstGroup's new trains should add further 12,000 seats a day on West Coast routes from 2016.