Libor scandal: Diamond hits back at MPs' claims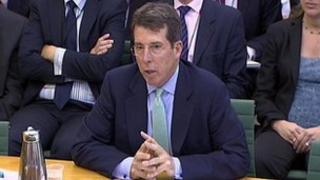 Former Barclays chief Bob Diamond has hit back at claims he was "highly selective" in his evidence to MPs during the Libor rate-rigging scandal.
It comes after the Treasury Select Committee said his evidence had fallen well short of its expected standards.
The scandal emerged in June when UK and US authorities fined Barclays £290m for fixing a key inter-bank interest rate.
Mr Diamond said he was disappointed and strongly disagreed with several of the committee's statements.
The committee blamed bank bosses for "disgraceful" behaviour which damaged the UK's reputation.
In a report, it said urgent changes to the way banks are run and regulated were needed to restore public confidence after the scandal.
Mr Diamond was criticised as MPs published the initial findings of a probe into the circumstances surrounding the fixing of the Libor rate, which sets inter-bank lending prices.
But the former chief executive, who resigned the day before he gave evidence to MPs, said he strongly challenged "certain assertions" about his testimony.
"I answered every question that was put to me to me truthfully, candidly and based on information available to me," he said.
"I categorically refute any suggestion to the contrary."
'Reprehensible behaviour'
Mr Diamond said he had taken particular issue with the attacks on Barclays' culture and character.
"There is no question that the behaviour of a small group of traders related to Libor manipulation was reprehensible and not in keeping with Barclays' high standards.
"At the same time, it should be recorded that broader issues with Libor have been a subject of discussion among regulators for years, and there is little dispute that Barclays was both aggressive in its investigation of this matter and engaged in its cooperation with the appropriate authorities.
"Looking forward, it's clear that thoughtful analysis and regulation of issues affecting the banking industry are required and I have no doubt that Barclays is committed to being part of the solution."
The MPs said the rate-rigging had done "great damage" to the UK's reputation.
Committee chairman Andrew Tyrie said: "The committee has called for action in a number of areas, including: higher fines for firms that fail to co-operate with regulators, the need to examine gaps in the criminal law, and a much stronger governance framework at the Bank of England.
"Urgent improvements, both to the way banks are run, and the way they are regulated, is needed if public and market confidence is to be restored."
The MPs firmly blamed the bosses of Barclays Bank for the way their staff tried to manipulate the Libor rate-setting process at various times between 2005 and 2009, in what the committee's chairman called a period of "extremely weak internal compliance and board governance at Barclays" and a "failure of regulatory supervision".
"Senior management at Barclays were issuing instructions to manipulate artificially the bank's submissions. It is unlikely that Barclays was the only bank attempting this," said Mr Tyrie.
The Conservative MP said Mr Diamond's evidence was at times "highly selective" and "fell well short of the standard that Parliament expects, particularly from such an experienced and senior witness".
The MPs accused Barclays of trying to pull the wool over their eyes by publishing - before Mr Diamond's committee appearance - a note of a phone conversation between Mr Diamond and Paul Tucker, the deputy governor of the Bank of England.
Barclays had said this showed the Bank of England had inadvertently given the impression that it would approve attempts by Barclays to submit low and inaccurate Libor submissions, in order to avoid giving the impression that it was having difficulty in raising funds at the height of the financial crisis.
"It remains possible that the information released in the Barclays file note, regarding a dialogue between Mr Tucker and [Mr] Diamond, could have been a smokescreen put up to distract our attention and that of outside commentators from the most serious issues underlying this scandal," Mr Tyrie said.
"Barclays did not need a nod, a wink or any signal from the Bank of England to lower artificially their Libor submissions. The bank was already well practised in doing this," the report says.
Responding to the MPs' report, Barclays said that although it did not expect to agree with all the findings, it will "carefully consider this comprehensive report" and recognised that change was required, adding that it had established an independent review of its business practices for that reason.
Labour's Chris Leslie said the chancellor would need to take "significant steps in the current Banking Reform Bill and beyond" in order to "rebuild public and global market confidence in the UK financial services sector".