China property prices rise in July boosted by rate cuts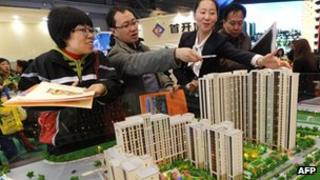 Property prices in China rose in July amid cuts in borrowing costs and after some local governments eased restrictions on purchases.
New home prices rose in 50 cities, compared to the previous month, figures released over the weekend showed.
Beijing has been trying to curb speculation in the property sector to prevent the formation of asset bubbles.
However, slowing growth has resulted in the easing of some policies, including two interest rate cuts.
Analysts said the cuts, which were announced in June and July this year, have had a positive impact on the property prices.
"A new trend does appear to be materialising as home prices continue on an upward trajectory after the Chinese government began to loosen certain levers to address concerns around a slowing economy," said Mark Budden, of consultancy firm EC Harris.
'Further downward pressure'
However, compared to the same month last year, new home prices fell in 58 cities in China in July.
Some analysts said the country's real estate sector continued to remain under pressure.
"I think it is premature to lead to the conclusion that property market has bottomed out and is on the rebound," Patrick Chovanec of Tsinghua University told the BBC.
He explained that a combination of factors, including discounts by developers, easing of some government curbs and even investors misreading the market, had contributed to the rise in month-on-month prices.
Mr Chovanec added that there were fundamental issues with China's property market and prices were likely to fall in the near term.
"There is lot of unsold inventory held by developers who desperately need to sell to raise cash to pay off debts," he said.
"Also a lot of the growth in demand due to urbanisation and rising incomes has already been anticipated by the market, both in terms of construction and prices.
"Both these factors suggest that there will be further downward pressure on the market."