Australia's resources boom is over, minister warns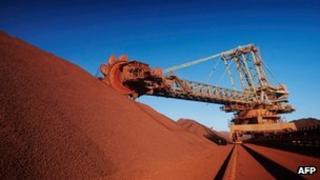 Australia's resources minister has said that the country's resources boom, one of the biggest drivers of its economic growth, is "over".
His comments come after BHP Billiton posted a 35% dip in profits and delayed plans to expand its Olympic Dam mine.
There are concerns that a slowing global economy may hurt demand for coal, metal ores and other commodities.
A slowdown in its mining sector, one of the biggest employers, is likely to dent Australia's economic growth.
"You've got to understand, the resources boom is over," Martin Ferguson told ABC radio on Thursday.
Mr Ferguson said the sector had done well and attracted a lot of investment making it the "the envy of the world".
However, he added that trading conditions had become tougher in the last six to 12 months.
Senator Penny Wong, Australia's Minister for Finance and Deregulation, disagreed with Mr Ferguson.
"I think the mining boom has still got a long way to run," she told the ABC radio.
"We still have a lot of investment coming into this country, half a trillion dollars in the pipeline and more than half of that at the advanced stage," Ms Wong said.
Tax issues?
Another key area that has been a cause of concern, especially among miners, has been the introduction of taxes such as the mineral resources rent tax (MRRT) and the carbon tax.
Under the MRRT, the government will impose a 30% tax on mining firms with an annual profit of more than A$75m ($79m; £50m).
It will apply to firms that mine iron ore, coal and petroleum and affect about 30 of Australia's biggest miners, including BHP Billiton, Rio Tinto and Xstrata.
Under the carbon tax law about 300 of the worst-polluting firms in Australia will have to pay a A$23 levy for every tonne of greenhouse gases they produce.
Mining firms, airlines, steel makers and energy firms are among those expected to be hardest hit.
Firms have argued that these taxes will not only hurt their profits but also make them less competitive compared with foreign players in the sectors.
Some political leaders have claimed that these measures have played a key role in mining firms cutting back their investment in Australia.
"What this government fails to understand is that companies like BHP and others have investment options around the world," Shadow finance minister Andrew Robb said in a statement.
"Consequently factors like the carbon tax, mining tax, regulatory burden, repressive industrial relations regime and the unpredictable nature of the Gillard government weigh heavily in decision making about which projects to advance.