China manufacturing at nine-month low, HSBC survey says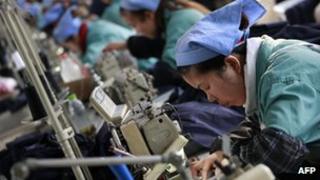 China's manufacturing activity fell to a nine-month low in August, a preliminary HSBC survey has shown.
The Purchasing Managers' Index (PMI) posted a reading of 47.8, compared with a final reading of 49.3 in July, HSBC said.
A reading below 50 indicates that manufacturing activity is contracting.
Some analysts said that the data indicated that government efforts to spur the world's second-largest economy had not boosted firms' confidence.
"To achieve the stated policy goal of stabilising growth and the jobs market, Beijing must step up policy easing to lift infrastructure investment in the coming months," said Qu Hongbin from HSBC in Hong Kong.
China's central bank has already cut the cost of borrowing and decreased the amount of money banks must keep in reserve in an effort to spur lending and boost the economy.
Chinese authorities have also opened up more sectors of the economy to private money, in an attempt to increase new investment in projects.
However, there has been no massive government stimulus package like the one launched after the global financial crisis in 2008, mainly because that move led to a sharp rise in consumer prices.
Some analysts argue that China's official PMI measure, which will be issued in coming days, will provide a better insight into whether a bigger response is required this time by the government to prevent a sharp economic slowdown.