Co-operative Group profits fall on bad loans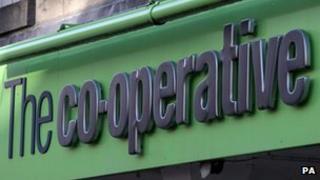 The Co-operative Group has reported a sharp fall in profits due to bad business loans and what it describes as a "competitive" food market.
Underlying operating profit for the first half year was £174m, down 34% on the £264m the group made a year ago. Total sales rose slightly to £6.56bn.
Like-for-like food sales, which strip out the impact of new and closed stores, fell 1.2%.
The group said it was confident sales would improve in the second half.
'Unrelenting downturn'
Continued uncertainty in the eurozone, low interest rates and higher write-downs on corporate loans hit the group's banking division.
Despite the challenging conditions, the group said it would be investing £2bn in the business over the next three years.
"It is in times like these when our ownership model as a mutual really comes into its own," said group chief executive Peter Marks.
"We have been able to continue to invest for the long-term development of all our businesses and to protect our customers, even though we, like all businesses, have felt the impact of the tough headwinds of the unrelenting consumer downturn.
"Looking ahead, we remain confident and we expect an improvement in sales and profit in the second half."
Last month, the Co-operative Group agreed to buy 632 branches from Lloyds Banking Group, after European regulators demanded Lloyds sell some of its branches following its partial nationalisation in 2009.
About 4.8 million Lloyds customers will be transferred to the Co-op, giving it about 7% of the current account market.
The Co-op will pay £350m upfront and up to an additional £400m based on the performance of the combined business.