Key UK economic growth figures face revision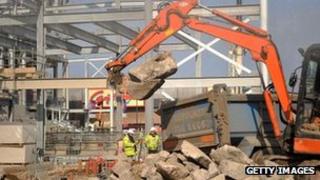 The real depth of the UK recession will be revealed later when the Office for National Statistics (ONS) releases its revised figures for April to June.
Financial markets and industry are awaiting the second reading of second-quarter gross domestic product (GDP).
Last month the ONS said the economy had shrunk by 0.7% - a much deeper downturn than expected.
There are indications those figures may have been too pessimistic, with some experts predicting a revision to 0.5%.
GDP figures show the value of all the goods and services produced in the economy.
That 0.7% contraction figure, published in July, was greeted with some scepticism by a number of experts and by some industries that claimed they had seen little sign of such a serious economic downturn.
It also seemed to be at odds with the unemployment rate which continues to fall.
The original figures from the ONS suggested that weak output figures in the industrial and construction sectors had been compounded by an extra public holiday during the period.
However, revised ONS figures for the construction industry now show that although output fell in the second quarter, the drop was less than expected.
Output from the sector fell by 3.9% between April and June from the previous quarter, compared with an earlier forecast of a 5.2% drop.
The ONS always refines its GDP calculations as better data becomes available and changes to the original estimates happen on a regular basis.
Any GDP revision is only likely to show that the recession is not as deep as first feared.
Some economists think the figure will be revised up to show a 0.5% quarterly contraction.
"A 0.1 or 0.2 percentage point upward revision to a very negative GDP number, or no revision, I don't think would do very much [to the market]," said Francis Diamond of JP Morgan.